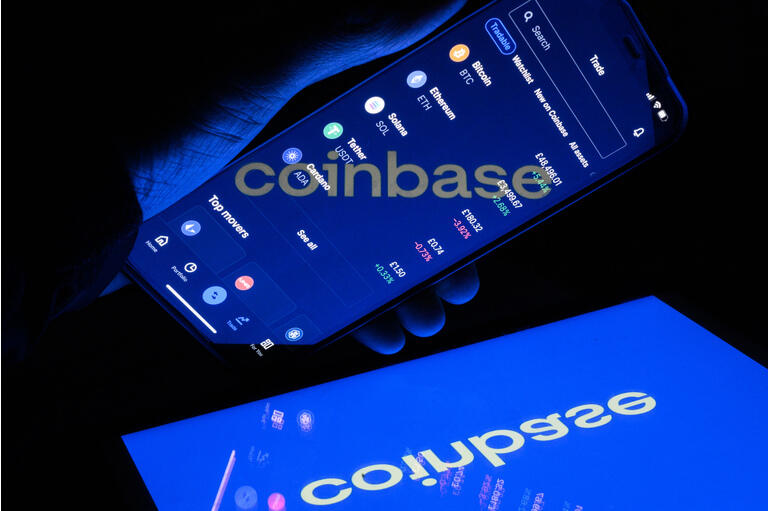 Founded in 2012 by Brian Armstrong and Fred Ehrsam, Coinbase (COIN) is a U.S.-based cryptocurrency exchange platform for investing, spending, saving, earning, and trading crypto. According to CoinMarketCap's ratings, Coinbase is ranked as the best crypto exchange in the U.S. and second in the world behind the Chinese-based Binance. Coinbase serves around 73 million users, 10,000 institutions across 100 countries, and holds an 11% global market share. Its variety of products generated 5.92B in revenue and 2.31B in profit in the past year. The majority of Coinbase's revenue comes from the transaction fees of individuals and institutions. Institutional custodial fees and sales of owned crypto assets serve as secondary revenue streams. Coinbase is the only publicly-listed and regulated exchange in the U.S., which is a major selling point for institutions. Having said that, exchanges such as Kraken and BlockFi have plans to go public in 2022.
Price Movements
On April 14, 2021, Coinbase went public on the Nasdaq with the ticker COIN. At the time, Bitcoin's price was rallying and Coinbase's listing pushed Bitcoin to its all-time high of $65,000. Coinbase ended its IPO day with a closing price of $328.28, a whopping valuation of ​​$85.7 billion. Over the next couple of months, the bubble seemingly popped and Bitcoin tumbled to $30,000, a near 50% loss. Along with it, Coinbase's stock fell to $220. However, Bitcoin bounced back in November and so did Coinbase. The pair's price changes are almost identical, demonstrating a strong positive correlation. This can be linked to transaction fees being Coinbase's major revenue stream. As cryptos fall, so do transaction volumes and Coinbase's revenue. As of January 4, 2022, Bitcoin sits at $46,000 and Coinbase fell to $250 from highs of $400.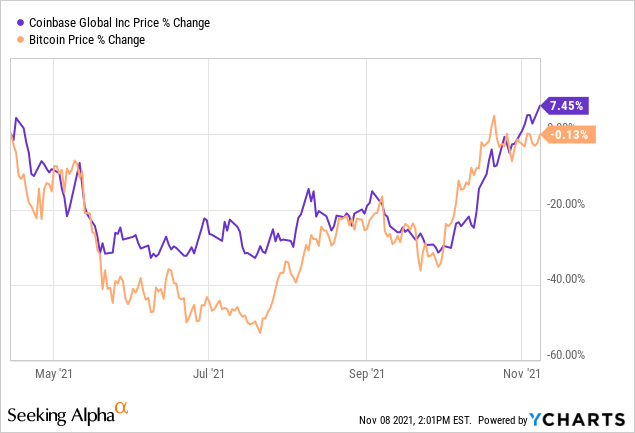 Source: Seeking Alpha
Industry Overview
Market Share
CoinMarketCap's rankings factor in trading volume, liquidity, traffic, and confidence in legitimacy. Although Coinbase is ranked very high due to liquidity and legitimacy, it does not fare as well in terms of trading volume. Binance sits comfortably at the top of the 24H trading volume list with around $16 billion. Coinbase is often 6th on the list at around $4 billion after OKEx, CoinFLEX, HitBTC, and Crypto.com. In recent months, many of these exchanges have become major competitors to Coinbase. Recently, the Singaporean company Crypto.com purchased the rights to the naming of the Staples Center, now Crypto.com Arena, in a 20-year $700 million deal starting this year. These exchanges have been gunning for Coinbase's position, but without any new stock listings in the U.S., Coinbase will still reign supreme among domestic and global investors.
Industry Growth
According to an October Fortune Business Insights report, the cryptocurrency market is expected to grow at a CAGR of 11.1% from 2021 to 2028. The current total cryptocurrency market cap is around $2.2 trillion, and that number will likely reach $5 trillion or more by 2028 considering new developments and crypto acceptance.
Future Adoption
A Pew Research survey found that 16% of Americans have invested in, traded, or used cryptocurrency. This number is set to grow as global adoption increases. El Salvador recently adopted Bitcoin as legal tender, a major step for the crypto industry in 2021, indicating that a major area of growth would be the increased acceptance of crypto from governments. However, after China's ban on crypto, many countries have grown weary. SEC Chairman Gary Gensler has promised to crack down on crypto and heavily regulate the industry. Despite that, it is clear that the crypto market is here to stay.
Competitive Analysis
Porter's Five Forces
Competitive Rivalry – Moderate (3 out of 5):
The global competitive rivalry of crypto exchanges is intense, however, Coinbase's position in the U.S. gives it a major leg up domestically. It holds far more recognition and trust among investors and large institutions.
Threat of New Entrants – Moderate (3 out of 5):
The decentralized and digital aspects of crypto make starting ventures less time-consuming. There is less upfront cost of capital because it requires no physical assets. Consequently, many companies have changed to remote-first with no formal headquarters, like Coinbase. This increases the number of new entrants, but not necessarily the threat of these entrants because legitimacy plays a larger factor.
Threat of Substitutes – Moderate (3 out of 5):
Individuals are likely to look towards substitutes in a market of near-identical products, nonetheless, institutions will likely stick to Coinbase due to its regulation as a publicly-traded company.
Bargaining Power of Customers – Insignificant (1 out of 5):
Competitors almost have no bargaining power in the crypto arena. Transaction fees from exchanges are layered on top of the existing blockchain transaction fees. For companies to profit, fees have to stay where there are.
Bargaining Power of Suppliers – Significant (5 out of 5):
The suppliers for a crypto exchange are the native coins and their transaction fees. The transaction fee from the blockchain of cryptos increases as the network size increases. These fees are necessary to reward miners and keep the network operational. As fees increase, companies face a decision whether or not to decrease margins to keep prices low for consumers.
SWOT Analysis
Strengths
Coinbase's strength comes from its ecosystem. It has been able to build up an array of products that allow it to have roots in the banking system. Besides the well-known Coinbase.com, Coinbase Pro, and Coinbase Wallet, the company offers Coinbase Custody, Coinbase Commerce, Coinbase Prime, and Coinbase Card. In addition, crypto's new popularity has given Coinbase a large user base and audience opportunity.
Weaknesses
Coinbase generates large amounts of cash, and cash flows have been positive for the past few years. Though, what seems like a strength could end up as a weakness. Coinbase has been unable to demonstrate a strong ability to launch and grow new segments with the large amount of cash it has on hand.
Opportunities
Coinbase has major opportunities in the NFT space and should look to bring NFTs to investors just like how they brought crypto mainstream. The company recently announced Coinbase NFT, a marketplace for NFTs. There have been predictions that the NFT market could take over Bitcoin in terms of market capitalization as the demand for NFT widens.
Threats
A major threat is Coinbase stock's correlation to the prices of major cryptos. Coinbase is overly reliant on the daily prices of cryptos like Bitcoin to move to its stock. Other large threats are government regulation, climate change policy, and the acceptance of crypto in countries around the world, including the U.S.
Revenue Drivers
Transaction Revenue
Coinbase's major revenue drivers are its transaction fees, which made up 85% of its revenue from Q1 to Q3 2021, as reported in the company Q3 10-Q. This number has decreased from 90% in the same period in 2020 because of the company's expansion towards different products. However, Institutional transaction fees still only make up 5% of total revenues in 2021, compared to 81% from retail traders. This shows that Coinbase charges much fewer fees on institutions to attract them to their platform, providing liquidity for the exchange.
Subscription and Services Revenue
Key revenue drivers for Coinbase's future come from subscriptions and services. The largest section of this segment is in the form of blockchain rewards at 43% of subscription and service revenue or 2.4% of total revenue. This high percentage is a result of Coinbase's large crypto holdings that allow it to generate staking revenue. The company participates in validating blocks on networks using its holdings and the blockchains reward the company for serving as a node. The second-largest category is custodial fees at 28% of subscription and service revenue and 1.6% of total revenue. This is revenue from holding custody of crypto assets of individuals and retailers. Coinbase Custody is specifically geared towards institutions, who are not well equipped to hold billions of crypto on their own. The last service in this category is Coinbase Earn at 14% and 0.8% of total revenue. Coinbase Earn pays you to learn about cryptos such as Compound, Stellar, or Polygon. These crypto companies pay Coinbase for advertising their product to users, essentially making the platform a promotion platform.
Crypto Asset Sales Revenue
An often overlooked category is Coinbase's revenue from crypto asset sales. The company sells its crypto asset holdings to customers, including institutions. This generated the company $475 million in the period of Q1 to Q3 2021. This makes up 8% of Coinbase's total revenue, more than its entire subscription and service revenue. According to the company's 10-Q, "Periodically, as an accommodation to customers, the Company may fulfill customer transactions using the Company's crypto assets held for operating purposes."
Financial Analysis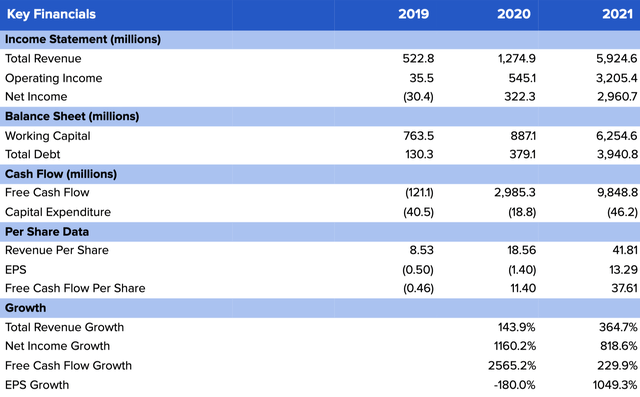 Source: Yahoo Finance, Seeking Alpha, Nasdaq
Coinbase's financials are very healthy with strong gains over the past 3 years. The company has seen three to even four-digit growth rates of its revenue, net income, free cash flow, and EPS each year. These numbers are mainly due to the growing popularity of crypto and its market capitalization, which Coinbase has taken advantage of. In the past year, Coinbase has been able to increase its EPS by a tremendous 1049.3%. The company's revenue CAGR has been 236.6% from the period of 2019-2021. Although these numbers may seem inflated, they are strong signs that the company is substantially undervalued.
Major Shareholders
Coinbase stock is held by multiple large institutions, Nikko Asset Management, ARK Investment Management, The Vanguard Group, Tiger Global…


Read More: Coinbase Stock: Crypto Is Here To Stay (NASDAQ:COIN)