This article is excerpted from Tom Yeung's Moonshot Investor newsletter. To make sure you don't miss any of Tom's potential 100x picks, subscribe to his mailing list here.
Counting Down to New Year's
As we continue our countdown to the New Year, here's a question for you:
Of the top five most-searched stocks on InvestorPlace.com in December 2020, which had the best 2021?
Answer: (A) Airbnb (ABNB)
Unlike other popular names — a mix of profit-free electric vehicle and tech companies — Airbnb was raking in revenue. Its shares would rise 16% in 2021, compared to an average loss of 36% for other retail favorites.
As 2022 rolls around, people are probably wondering if there's any middle ground between meme investments and solid bets.
Rest assured there are.
Today, my No. 4 pick for 2022 covers a company that looks like Airbnb — a meme favorite with plenty of fundamental upside. And crypto fans rejoice: it's also a top blockchain pick.
Robinhood's Stumbles Paving The Way for My No. 4 Pick
When I wrote about Robinhood (NASDAQ:HOOD) back in July, I wasn't exactly enthused with the company's missteps.
"The firm's recent stumble opens the door for other Moonshot bets."
– Moonshot Investor, July 30
Since then, the zero-commission trading app has continued to disappoint like a proverbial lump of coal in the Christmas stocking.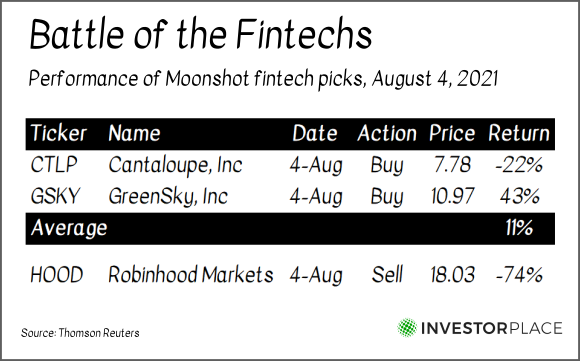 Now that HOOD has fallen below $20, some buy-the-dip investors might be tempted to jump in…
…if not for another contender that could snatch Robinhood's crown.
My No. 4 Pick For 2022
In 2018, upstart crypto Visa card company Monaco had a brilliant idea:
Why not buy the Crypto.com domain?
It was certainly a bold move. The domain owner, UPenn computer science professor Matt Blaze, bought the URL in 1993 and had refused every other offer since then.
But it seems CEO Kris Marszalek has quite a way with words.
"This is a very powerful identity that we are taking on," he said in an interview with TechCrunch. "It's representative of the entire category so it comes with a huge responsibility on us to carry the torch. We don't take it lightly and this is one of the things that I think we conveyed successfully, that, as a company, we do have a higher purpose."
The visionary CEO has since made good on his promises. Crypto.com (CCC:CRO-USD) remained in the top-10 most downloaded apps on the Google (NASDAQ:GOOG, NASDAQ:GOOGL) App store for the entire month of November according to app tracking service SensorTower; even now, it remains in the top 25. The app now counts at least 10 million users.
The reason for success was twofold:
Marketing. The firm has used a smart combination of blockbuster campaigns and smaller-scale ads. Crypto.com reportedly paid $700 million to rename the L.A. Staples Center and recruited Hollywood star Matt Damon as the face of a $100 million television and billboard campaign. Meanwhile, an aggressive ad campaign on Reddit and Twitter (NYSE:TWTR) has likewise yielded strong results.
Product. The company offers 200+ cryptocurrencies, far more than Robinhood's seven and Coinbase's 140. Crypto.com also offers cryptocurrency Visa (NYSE:V) cards, where users can earn up to 8% spending rewards and 14.5% staking ones
In other words, it's the crypto trading app Robinhood should have been: a well-loved app that offers services beyond simple Dogecoin (CCC:DOGE-USD) trading.
Wagging the Doge
Today, Crypto.com investors can buy everything from meme favorite Loopring (CCC:LRC-USD) to Metaverse play Boson Protocol (CCC:BOSON-USD) — provided you live in jurisdictions that allow such trading.
The firm has also expanded aggressively into payments, offering both P2P and B2C options. Crypto.com Pay now supports 22 cryptocurrencies on its app (including Shiba Inu (CCC:SHIB-USD)) and 26 cryptos for Ethereum/ERC-20 compatible wallets. Payments are done off-chain, which allows for zero transaction fees (though slippage costs do apply).
In other words, Crypto.com has managed to wean itself off of Dogecoin mania by offering products outside meme token trading.
Binance Finance
The $15 billion question, of course, is what Crypto.com's native token is actually worth. Even if the parent company succeeds, does that make its token worthwhile?
Here's why Binance's experience says "yes."
The native token for the Binance Smart Chain — Binance Coin (CCC:BNB-USD) — has been on the Moonshot Investor's "buy" list since September (The token is up 30% since then). As the primary exchange method between Binance tokens and real-life money, BNB is an easy way to "park" cash in between transactions. Even the most avid Safemoon (CCC:SAFEMOON-USD) fans need a break from time to time.
CRO follows a similar playbook. Like BNB, CRO is deflationary — investors are competing for a limited supply of the currency. Both crypto firms are also making their native currencies as attractive as possible — Crypto.com offers up to 14.5% staking rewards and pays cash-back in CRO.
That means CRO is likely worth 85 cents, assuming that the company reaches a $50 billion valuation and maintains a similar enterprise-value-to-coin ratio that Binance does. And if CRO becomes a medium of exchange outside the Crypto.com ecosystem, prices could reach $1 or more next year. Either way, it's a top Moonshot pick for next year.
The Execution Risks of Crypto.com
Of course, even CRO comes with significant risks. In October 2020, Crypto.com made headlines for all the wrong reasons when the firm botched its conversion from the original MCO token to the current CRO one. The exchange rate — amounting to a 33:1 ratio — diluted existing holders by a factor of almost 100. The firm would later burn 70% of CRO tokens to compensate holders.
Crypto.com also comes with significant business risk. The company has largely self-financed through a combination of ICOs and capital gains on its Ethereum (CCC:ETH-USD) holdings, but its 5 billion CRO token hoard won't last forever.
That means the company must eventually pivot to earning profits from trades and transactions — a feat that took Block (NYSE:SQ) (formerly known as Square) seven years as a public company to achieve. But if that does come to pass, investors could be getting in on the ground floor of a highly promising startup.
Robinhood's Missed Market Opportunity
Regular Moonshot readers will know that I love fintech firms, particularly those operating in the lucrative business of payments. Visa earns 37% returns on equity, making it more profitable than either Alphabet or Meta (NASDAQ:FB). And Point-of-sale (POS) companies like Fiserv (NASDAQ:FISV) are consistently profitable despite few people knowing their name. When you're earning 1-3% on every credit card transaction, it's hard not to make money.
Crypto fintech firms take this business to the next level. These companies are breaking into highly lucrative markets with never before seen products. Even if these startups need to slash commissions (as Square did when it was expanding into retail PoS markets), they'll eventually make up the difference as rates rise again.
2022 will be the year payments face a blockchain reckoning. And if Crypto.com has its way, its token is one to watch.
P.S. Do you want to hear more about cryptocurrencies? Penny stocks? Options? Leave me a note at moonshots@investorplace.com or connect with me on LinkedIn and let me know what you'd like to see.
FREE REPORT: 17 Reddit Penny Stocks to Buy Now
Thomas Yeung is an expert when it comes to finding fast-paced growth opportunities on Reddit. He recommended Dogecoin before it skyrocketed over 8,000%, Ripple before it flew up more than 480% and Cardano before it soared 460%. Now, in a new report, he's naming 17 of his favorite Reddit penny stocks. Claim your FREE COPY here!
On the date of publication, Tom Yeung did not have (either directly or indirectly) any positions in the securities mentioned in this article.
Tom Yeung, CFA, is a registered investment advisor on a mission to bring simplicity to the world of investing.