Global markets came under pressure after a new Covid-19 variant was identified in South Africa. The knee jerk reaction was a market wide sell-off, with travel and hospitality stocks being worst affected. The other knee jerk reaction was a spike in the prices of vaccine producers Moderna, Inc. (NASDAQ:MRNA), Pfizer (NYSE: PFE) and BioNTech (NASDAQ: BNTX).
After Moderna's share price gained more than 20% on Friday we decided to investigate the opportunity the share may offer.
View our latest analysis for Moderna
What's the opportunity in Moderna?
Estimating the value of a company like Moderna right now is challenging to say the least. There is a very real possibility that earnings will fall significantly in the next few years if the pandemic fades away. This is exactly what the consensus forecasts from analysts suggest as is reflected in the chart below.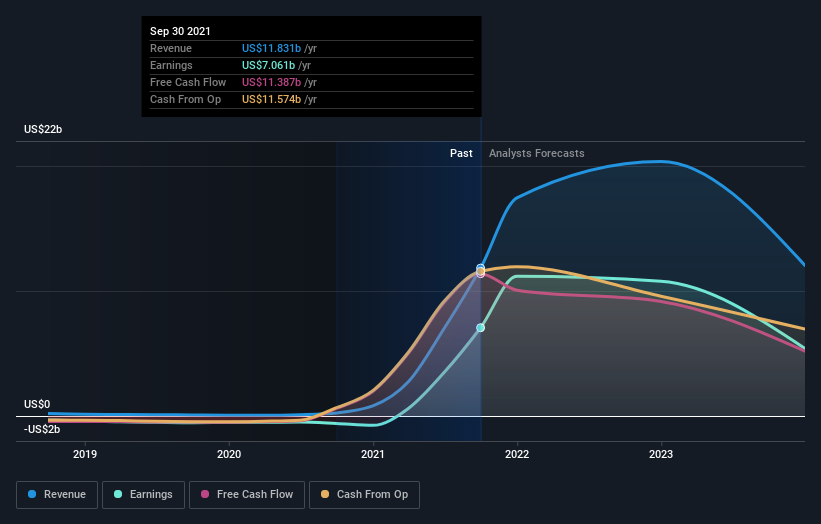 Our estimate of the fair value based on expected cash flows suggests a value of only $45 a share, implying the stock is wildly overvalued. However we wouldn't read too much into this as there are too many unknowns to forecast these cash flows with any level of certainty.
What we can do is consider Moderna's price-to-earnings ratio (P/E) and the earnings growth that it implies. Moderna is now trading on a P/E of 18.9x based on the last 12 months of earnings.This is very close to the market average of 17.2x and relatively low for the US biotech industry which has a ratio of 25x.
Can we expect growth from Moderna?
Earnings for the US market are expected to grow at 14.3% over the next few years, so a company with a similar P/E should have similar growth expectations. The reality will depend on how long demand for vaccines remains at current or higher levels. The current narrative is that demand will peak in the next year and then decline – but the reality will depend on several unknown, such as:
How much longer the pandemic continues and whether demand for 'booster' shots' becomes widespread. 
The effectiveness of Covid-19 treatments such as Merck's COVID pill.
How effective Moderna is with distribution compared to competing companies like Pfizer/BioNTech and Johnson & Johnson. The company has struggled with supply chain problems in the last year.
In addition to these factors, politically sensitive issues like vaccine mandates, vaccine hesitancy, pricing power and IP control may also play a role.
Moderna beyond Covid
Moderna currently earns all of its revenue from Covid-19 vaccines, but the company does have an exciting future beyond the current pandemic. Moderna has developed a platform for rapid development and production of mNRA vaccines. Clinical trials are currently being conducted for vaccines for influenza and the respiratory syncytial virus.
There is an investment case to be made for Moderna beyond the current pandemic. However, like most biotech companies there is still a high degree of uncertainty and risk. 
What this means for you:
Typically when you invest in a company you expect earnings to rise or at the very least stay constant in the future. Moderna is a company that is generally expected to see earnings decline over the next few years. If this is the case, the P/E ratio will rise (at the current share price) and the stock will quickly appear very expensive.
The share does offer optionality both on the Covid-19 pandemic being more prolonged than generally expected and on future vaccines – but this optionality comes with a high degree of risk.
Regardless of the valuation, the stock price is likely to be more sensitive to news than anythiong else in the medium term.
To learn more about Moderna have a look at our comprehensive analysis for the company. Alternatively, you may want to investigate Johnson & Johnson (NYSE: JNJ) and Pfizer (NYSE: PFE) which have more diversified revenue streams.
If you are no longer interested in Moderna, you can use our free platform to see our list of over 50 other stocks with a high growth potential.
Simply Wall St analyst Richard Bowman and Simply Wall St have no position in any of the companies mentioned. This article is general in nature. We provide commentary based on historical data and analyst forecasts only using an unbiased methodology and our articles are not intended to be financial advice. It does not constitute a recommendation to buy or sell any stock and does not take account of your objectives, or your financial situation. We aim to bring you long-term focused analysis driven by fundamental data. Note that our analysis may not factor in the latest price-sensitive company announcements or qualitative material.
Have feedback on this article? Concerned about the content? Get in touch with us directly. Alternatively, email editorial-team@simplywallst.com


Read More: Moderna's (NASDAQ:MRNA) Valuation Doesn't match Current Forecasts