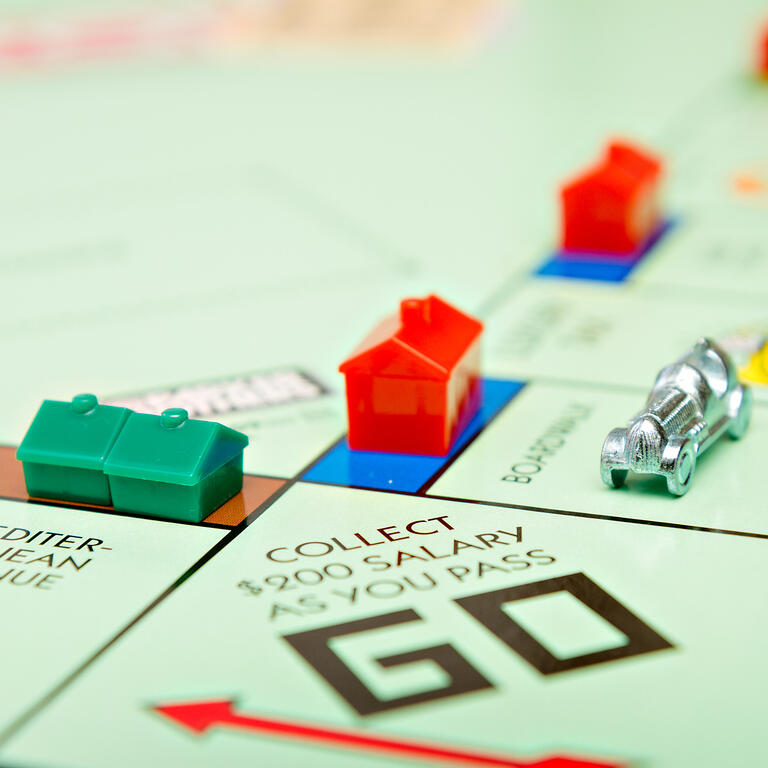 Investment Thesis
Zillow's (NASDAQ:Z) departure from the iBuying business made me change my overall thesis on Opendoor (OPEN), from "competition will undercut prices and lower margins" to "Opendoor will run a monopoly by leveraging its technology, scale, network size, and brand moats." In this article, I will cover why I changed my thesis.
While Opendoor may be running a monopoly, its inventory may be growing to unsustainable levels – the company needs to execute its iSelling segment as well. Despite the risks, Opendoor trades extremely cheaply for a monopoly business with sky-high growth potential. This combination doesn't come often. Opendoor is a Strong Buy.
Bertrand Model Revisited
A few months ago, I wrote an article discussing the type of industry that iBuyers are operating in and where their fate lies. I used game theory to illustrate that iBuyers belong in a Bertrand industry, which has the following characteristics:
Homogenous product – firms produce identical products in the eyes of the consumer. Zillow Offers, Opendoor, Offerpad (OPAD), and RedfinNow (RDFN) are essentially the same products for consumers.
Perfect information – consumers know the price being charged by each firm. A decade ago, the absence of iBuying platforms meant that consumers have to contact real estate agents one by one to get a home appraisal. This process is troublesome, time-consuming, and unreliable. However, the Internet has made it possible for consumers to get a direct quote in a few minutes, allowing them to easily request and compare offers from multiple firms almost instantly. Furthermore, there's a culture of radical transparency where companies break down every line of fees and prices, which makes the average customer more informed.
Lowest price wins – firms set prices simultaneously and consumers will buy (or sell) from the firm with the lowest price since the products are homogeneous and consumers bear no switching costs. When I want to buy a home, if Zillow offers me $300,000 and Opendoor offers me $299,999, I'll go to Opendoor so I can feel good about saving an extra dollar. A little extreme but you get the point.
No cost advantages – each firm has the same marginal cost of production, or in this case, the same contribution margin per home sold. I know for a fact that contribution margins are not the same currently. Zillow Offers, Opendoor, and Offerpad have contribution margins of 5.3%, 10.4%, and 8.3% based on their latest earnings release, respectively. There are differences but it is not significant enough to give a competitive advantage over another. Zillow is the latest to enter the iBuyer market, thus the lower margins. However, as the company modifies its pricing algorithm, I expect margins will be in line with competitors.

(Source: iBuyers: Game Theory And The Fate Of The Industry by Author)
Based on the characteristics of a Bertrand industry as described above, I derive the following conclusion:
I see four paths where iBuyer unit economics will erode overtime:

Lower prices for buyers
Higher prices for sellers
Higher commissions or referral bonuses for agents
Higher pay for contractors

(Source: iBuyers: Game Theory And The Fate Of The Industry by Author)
Due to the fact that all iBuyers were offering near-identical products and have complete information of what competitors charge, I believed that iBuyers would eventually adopt price-cutting behaviors in an attempt to win over customers. Undercutting would continue until a point in which all companies charge at marginal cost, making zero economic profit as a result.
My analysis assumed that none of the iBuyers have any cost advantages, and even if there was, it will be unsustainable.
Boy was I wrong.
Not only does Opendoor has a unit economics advantage, but it is also so far ahead of Zillow that it caused the latter company to throw in the towel. As such, Zillow's exit completely changed my previous thesis that iBuyers are operating in a Bertrand industry. Instead, Zillow's exit might pave a way for Opendoor to run a monopoly.
Moats and Monopoly
In his book Zero To One, Peter Thiel highlighted four characteristics that make up a monopoly:
Proprietary technology
Economies of Scale
Network effects
Brand
In this section, we'll take a look at each of the qualities mentioned above.
First, let's look at proprietary technology. Despite Zillow being late into the iBuyer business, I expected Zillow to catch up with Opendoor as Zillow has tons of data pertaining to real estate. After all, it is the undisputed king of online real estate. In essence, Zillow was my number one concern when it comes to investing in Opendoor. However, Zillow's recent exit from the iBuying business tells me a different story: Opendoor's iBuying technology is so powerful and many years ahead that its technology subsequently creates a high barrier of entry, even against top dogs like Zillow.
Looking at each company's unit economics can tell us whether Opendoor has a technology advantage or not. As you can see below, Opendoor consistently beats Zillow by around 500 basis points in regards to Contribution Margin After Interest, which is how much the iBuyers make for each home sold after deducting holding costs, direct selling costs, and interest expense. My argument previously was that Contribution Margins for iBuyers were quite thin and that they would fall to near zero over time. However, I underestimated how just one percentage point can make a world of a difference – when executed in high volume, each percentage point contributes to millions and billions of extra profit. By just looking at the table below, Opendoor is basically making twice as much money as Zillow for each home sold, again, consistently. No wonder Zillow call it quits.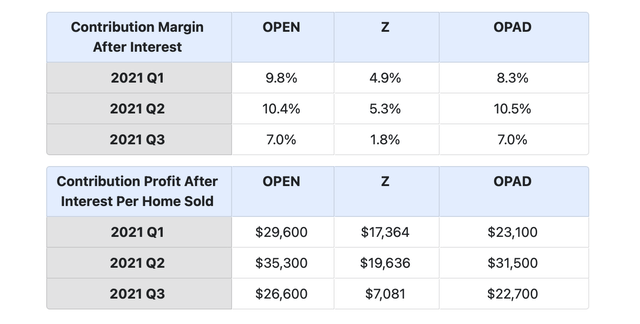 (Source: Opendoor, Zillow, and Offerpad Earnings Releases)
Opendoor's superior unit economics tells us that the company has a technological edge over Zillow, the so-called king of online real estate. Although Opendoor's Contribution Margin is in line with Offerpad's, Opendoor still makes more money in absolute figures. In the last two quarters, Opendoor makes $4,000 more per home compared to Offerpad.
Opendoor's management expects long-term Contribution Margins to be 4 to 6% as home prices normalize from the recent surge. Including higher-margin ancillary services, that range could improve to 7 to 9%. While these numbers are indeed quite thin, the magic happens when business is done in scale, which is the second quality of a monopoly.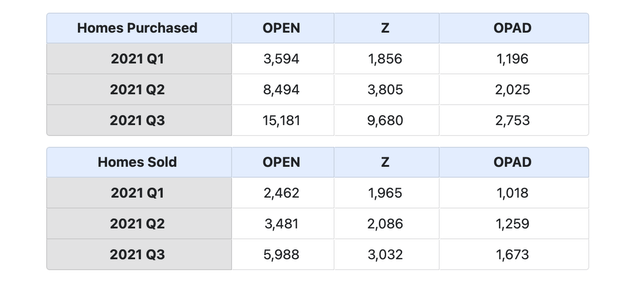 (Source: Opendoor, Zillow, and Offerpad Earnings Releases)
Opendoor is able to achieve industry-leading margins while expanding aggressively. In the last three quarters, Opendoor purchased and sold 27,269 and 11,931 homes, respectively. Zillow has been actively buying and selling homes as well but its industry-low margins were unsustainable. As for Offerpad, the company is expanding relatively slowly, but we did not see margins any better than Opendoor. In my eyes, Opendoor is going rogue with volume while maintaining top-of-the-table margins. This combination should reward Opendoor with economies of scale as fixed costs are spread among a larger number of homes.
Furthermore, Opendoor should benefit from powerful network effects as it scales. The company has doubled its markets from 21 to 44. It has also acquired Pro.com and Skylight.com to enhance its home renovation process, expanding its network of contractors for renovation. The acquisition of RedDoor.com should also delight new and existing customers with new features and services in the home financing section. Opendoor also boasts a high NPS score of 80+, which should drive customer acquisition at minimal costs.
Lastly, Opendoor also possesses the last trait for a monopolistic business: brand. Opendoor was founded in 2014 and pioneered the iBuying model. The company has been the go-to brand for consumers to buy and sell homes and it continues to grow at a fast pace. According to Mike DelPrete, iBuyer market share soared in Q3 2021 to 1.6% of total homes purchased in the US. If we remove Zillow from the equation, Opendoor now owns roughly 80% of the iBuyer market – a number high enough to be deemed a monopoly.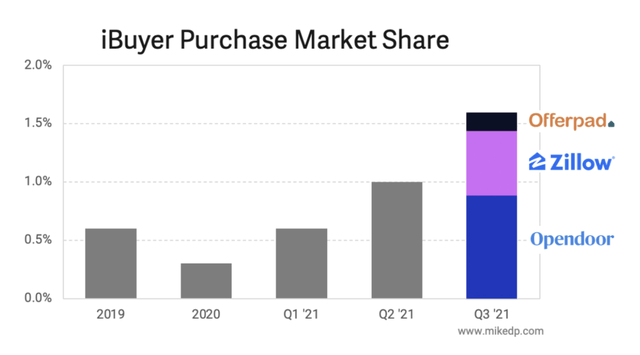 (Source: iBuyer Market Share Rockets To New High by Mike DelPrete)
In my view, the tables have turned for Opendoor. Zillow's exit proved that Opendoor has competitive moats in terms of proprietary technology and economies of scale. As the company continues to expand, it should also benefit from network effects as demonstrated by its leading brand presence as the go-to iBuyer for consumers. The combination of all these attributes should pave the runway for Opendoor to reach sustainable profitability – rather than "zero economic profit" in a Bertrand industry – as it establishes itself as a monopoly in the iBuyer space.
What To Watch: iSelling
A common misunderstanding about iBuyers is that they are in the business of flipping houses. While it is true that iBuyers will enjoy higher profits from buying low and selling high, iBuyers are actually market makers, providing homesellers liquidity as well as matching homebuyers with new homes. iBuyers will buy and sell homes regardless of the economic environment, whether in booming markets or recessions, taking a small transaction fee for being the market maker for homes.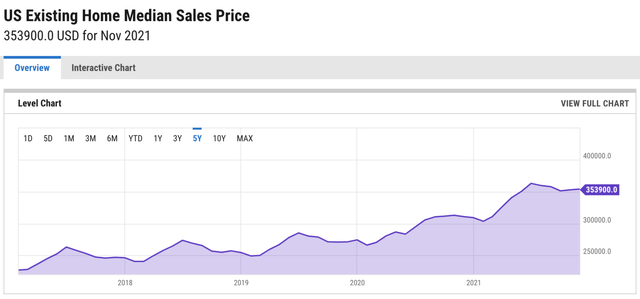 (Source: YCharts)
Despite being market makers, we cannot ignore the fact that home prices have soared over the last decade, and more prominently, since the pandemic started. As shown above, US Existing Home Median Sales Price remains elevated in Q3 of 2021. As it relates to Opendoor, the company's record-buying Q3 meant that the company has been acquiring homes at peak prices.
In Q3 of 2021, Opendoor acquired 15,181 homes, up 79% YoY. On the other side, Opendoor only sold 5,988 homes in Q3, less than half of what it bought. As of Q3, Opendoor had 17,164 homes on its balance sheet,…


Read More: Opendoor Stock Is A Strong Buy With Zillow's Exit From iBuying (NASDAQ:OPEN)