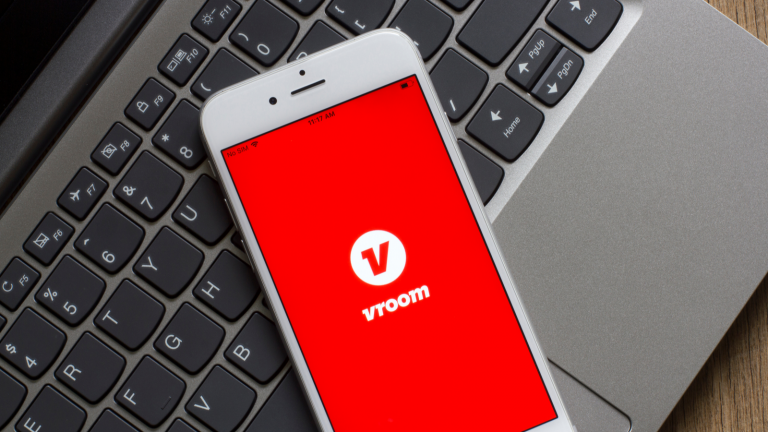 Source: Tada Images / Shutterstock.com
Vroom (NYSE:VRM) is an online marketplace for buying and selling cars. The company came into being with the idea that it could shake up the existing used automobile marketplace. Rival Carvana (NYSE:CVNA) achieved a tremendous valuation in 2020 and 2021, and VRM stock investors no doubt hoped for a similar outcome.
However, this has not come to pass. Indeed, Vroom is now down a jaw-dropping 96% since it started trading in 2020. I'm not going to sugarcoat anything here: There's a decent chance VRM stock ultimately ends up worthless.
Vroom's problems fundamentally come down to one main issue. It just doesn't generate enough profit on each vehicle that it sells. The company's vehicle gross profit per ecommerce unit fell to a stunningly low $473 in the fourth quarter of 2021, down sharply from an already bad $878 in the previous year. It shouldn't take too much thinking to see the problem here; it's impossible to cover costs — let alone turn a profit — earning such a scant amount on each transaction.
Vroom netted a gross profit of $32.9 million last quarter. Meanwhile, it spent $166 million on selling, general and administrative (SG&A) expenses. Needless to say, having $166 million of overhead to generate $33 million of gross profits is not a sustainable business model.
Vroom spent $28 million on outbound logistics as part of those SG&A expenses, meaning it lost virtually all of its gross profit before delivering the vehicles to customers. For another, it spent $37 million on marketing, meaning it cost more just to acquire its customers than it earned back from their transactions.
But wait, it gets worse. These atrocious results happened during an unprecedented boom in the used vehicle market. If there was ever a time Vroom should have been able to mint money, it would have been in 2021. Used cars were selling like hotcakes. And yet Vroom was outselling them for infinitesimal profit margins. If that's how it performed during a market boom, how will things look during a bust?
We might never find out, as Vroom may not have the liquidity to last that long. Sure, it had $1.1 billion in cash as of December 2021. However, not all that cash is freed up, as it may need a substantial cushion to manage inventory and other expenses for a high-capital intensity business like cars.
Meanwhile, the company lost $130 million in Q4 alone. That projects to a loss of more than half a billion dollars for a full year if things keep running at that pace. Throw in a downturn in the used car market from 2021's record conditions, and Vroom's losses could balloon even more.
Long story short, the company could need to raise more capital by mid-2023. Doing so from the credit market seems difficult given Vroom's massive operating losses. And to raise stock via equity would be painfully dilutive with shares trading south of $2.
Vroom had a chance to shine with the car market heading through the roof last year. That opportunity squandered, it's hard to see anything other than a dead end ahead for VRM stock.
On Penny Stocks and Low-Volume Stocks: With only the rarest exceptions, InvestorPlace does not publish commentary about companies that have a market cap of less than $100 million or trade less than 100,000 shares each day. That's because these "penny stocks" are frequently the playground for scam artists and market manipulators. If we ever do publish commentary on a low-volume stock that may be affected by our commentary, we demand that InvestorPlace.com's writers disclose this fact and warn readers of the risks.
Read More: Penny Stocks — How to Profit Without Getting Scammed
On the date of publication, Ian Bezek did not have (either directly or indirectly) any positions in the securities mentioned in this article. The opinions expressed in this article are those of the writer, subject to the InvestorPlace.com Publishing Guidelines.


Read More: Vroom Is Racing Off a Financial Cliff